SD
Memory
Card
Data
Recovery

Has your memory card stopped working or lost photos? Don't panic! We're here to get your files back! We deal with all types of memory cards like SD / Micro SD cards from cameras, DSLR & phones.
IMPORTANT: For best success STOP using it and leave it turned off.
| | | | | | | | |
| --- | --- | --- | --- | --- | --- | --- | --- |
| Sandisk | Toshiba | Samsung | Lexar | Verbatim | Huawei | Sony | Strontium |
Can
you
recover
my
data?
Yes! We are Australia's most experienced data recovery company. Our team are University qualified computer scientists and we were the first company in Australia certified for chip-off data recovery by Ace Labs.
SOFTWARE PROBLEMS
HARDWARE PROBLEMS

Deleted files
Corrupted Partition
Formatted
Lost or missing files

Bad Sectors, Read Errors
Damaged PCB, pins, contacts
Slow reading sectors
Chip-off reading
Card not detected
How
long
does
it
take?
Standard service: 1 ~ 4 weeks
Urgent service: Same week +$150
Emergency 24 hour service +$250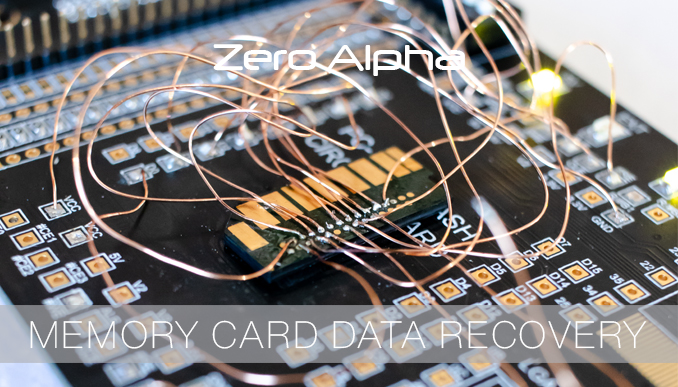 Why
should
I
use Zero
Alpha
Data
Recovery?
Your best chance of getting your data back is with us.
We never give up!
We have the worlds most advanced data recovery technology.
We can diagnose any problem whether its not being detected from hardware faults or software problems like corruption and deleted.
The IT industry also chooses us for data recovery outsourcing as we offer the highest success rates without the corporate price tags our competitors charge.
We give an honest appraisal. 
We're not just computer science nerds at Zero Alpha, our team is fun and passionate about what we do.
Ready
to
get
started?
What are you waiting for? Submit a job and get your data back now!
Step 1: Free test & quote
Step 2: Check your data recovery results
Step 3: Return your data!
For deliveries please use padding and a box.
Visit in person. Free test & quote while you wait 9-5 Monday to Friday.