Sydney Data
Recovery
Service
Zero Alpha has been providing Sydney customers both personal and business, with data recovery solutions for over 12 years. 
We are an Australian company that is globally recognised for our world class tools & clean room. 
Zero Alpha gives you the best chance of recovering your important data - LOWEST PRICE GUARANTEED
Visit
or
Deliver
Open 9am - 5pm Monday to Friday. Free test & quote while you wait
Zero
Alpha
925
/
100
Walker
Street
North
Sydney NSW 2065
We are on Level 9. Exit the elevator and turn RIGHT
Customer
Service
Hotline:
---
Data
Recovery
Sydney
Hard
Drive
There are 2 types of hard drive data recovery. Software problems: Deleted, Corrupted & Overwritten. Hardware problems: Hard drive is not detected or responding & hard drive is making a clicking sound. Common brands:
Western Digital | Seagate | Toshiba | Samsung


RAID
Servers or  RAID Data Recovery. Common types:
Rack Mount | Blade Mount | Tower
We are highly experienced with raid and server data recovery. We have saved files from every type of industry from large corporations, government departments and home office.
Phone
Apple iPhone Data Recovery | Samsung Galaxy Data Recovery | Water damaged phone data recovery | We recover data from phones that wont turn on. Deleted data recovery
Solid
State
SSD Data Recovery | SSD not detected, SSD deleted files, SSD software and hardware data recovery. We can perform chip off data recovery for all brands including: Samsung Evo, Crucial, Intel, Silicon Power & Kingston
USB
USB Data Recovery | USB flash drives | USB thumb sticks | USB not detected - Deleted data from USB - Corrupted USB drive data recovery
Memory
Card
Camera Card Data Recovery. All types: SD micro SD. Deleted Photos. Corrupted Data Recovery. Card not recognised in computer data recovery
Data
Recovery
Advice
We recommend in all cases of data loss to leave your drive turned off. A hard drive that is left off will prevent further damage. Sometimes data loss can be distressing. You can call our super friendly hotline for advice on 1300 001 211. We will be able to provide you with reassuring advice on what to do next.
Avoid unqualified friends, family members or internet suggestions. Most of the these people have good intentions to help you but their unqualified advice usually leads to risky experiments.
Avoid internet apps, Windows checkdisk or Mac first aid disk check. These apps are not sophisticated enough to deal with faulty drives and can cause data rearrangement that can risk permanent data loss or make a data recovery job more expensive than it needed to be.
Avoid being overcharged. Unfortunately we get occasional reports of businesses trying to take advantage of customers by charging exorbitant prices well into the thousands. Clever marketing tricks to gain your confidence includes underquoting with a low starting price. Our prices are advertised with no hidden extras. Lowest prices guaranteed.
How to
recover
data
from
failed hard
drive
Our data recovery lab will diagnose the problem with your media first. We provide a FREE test & quote. Our pricing is the lowest price guaranteed. As Australia's leading data recovery service we will then have an action plan to get your files back.
The
5
Most
Common
Causes
of
Hard
Drive Failure
1. Hard Drive is not detecting
A hard drive that has malfunctioned will not detect in any computer or BIOS. These issues are caused by bad sectors, firmware damage or heads damage and is the most common problem we see. Data recovery is possible.
2. Computer fails to start up
A malfunctioning hard drive can prevent your computer, laptop or server from booting up. Symptoms range from errors about the start up drive missing, freezing on the Windows or Apple logo or slow and unresponsive. Data recovery 
3. Accidentally dropped portable drive
Dropping a drive can cause internal damage. Known as a head crash in the data recovery industry common symptoms are drive that make clicking sounds, buzzing sounds or no longer become readable. We have world class tools to recover data from these problems in a clean room.
4. Accidentally deleted files or folders
When data is deleted computers remove the indexing to the files so that the hard drive space becomes available for new data. Zero Alpha can find these files giving you a high success rate for deleted file data recovery.
5. Corruption
Corruption can occur when a read-write cycle is interrupted. Common corruption problems can cause boot sector damage, partition table damage or even file and folder loss. The success rate for corrupted data recovery is high.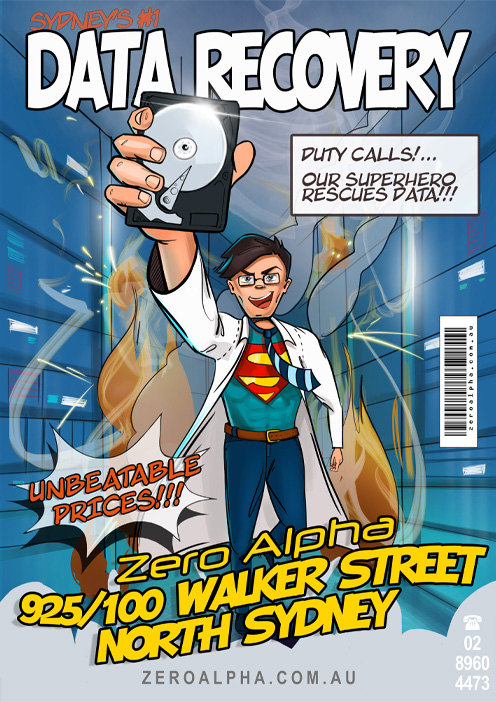 ---